Theater has always been apart of my life ever since I was pretty little, but it was recently reintroduced into my life as something way more important.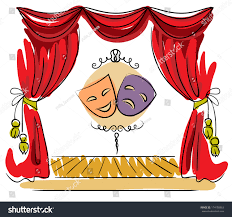 Before, I believed theater and acting was mostly about learning your lines, and pretending to be your character, and that all that was ever to be performed or presented, was those written on the paper marked "script".
But now that I have looked a little more into the art of performing lines on stage, I have noticed just how difficult it is for one to take the flat black and white words printed onto a piece of paper, and turn it into something as beautiful as a performance.
The key? I don't believe I have it yet, but I think I have a good idea of what it might be. My director is constantly asking me "what does your character want?" ...well how should I know? I would think, I'm not my character!
The thing is, you have to BECOME your character. What is on the page isn't even half of what you need to know to become your character. You'll have to come up with a back story, motives and super-motives to support every word and action your character decides to do on stage. This requires LOTS of thinking and prepping before rehearsals; no wonder actors are so well paid (sometimes).
But don't get me wrong, theater is by far one of the best things I've ever tried; the rush of curtain call after every show keeps me going for hours, the costumes and makeup, the bond you make with your fellow cast members, and just the whole experience all together.
Theater is definitely not something easy or something you can just overlook, it requires a certain amount of effort and determination and passion! I hope everybody gets a chance to experience theater at least once in their life.