After the Warriors blowout in Utah, @utahjazz tweeted this.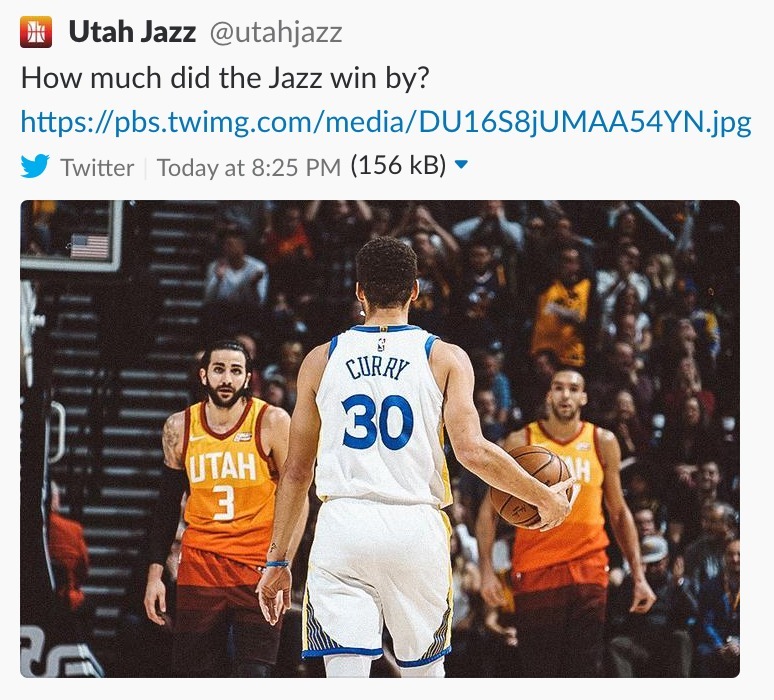 But minutes later they deleted the tweet. I'm not sure why. It's a classic. The Warriors should put it on a wall.
The Jazz came to play and the Dubs were discombobulated. To their credit, the Jazz never took their boot off the necks of the Warriors, especially Ricky Rubio and Joe Ingles. They stepped up and made shots. Utah won every quarter. When was the last time that happened to the Dubs?

Steve Kerr was frank in his take on the game. Tougher than the Jazz tweet by quite a bit.
But there were some positives to the game.
JaVale McGee played with energy. He made his first seven field goal attempts for 14 points, including some monster moves to the rim and a beautiful fade away jumper in the 4th quarter.
Klay Thompson was another standout for the Warriors, shooting 12 for 17 (70.6%!) with 3 three-pointers. It was a pleasure to see him play so efficiently.

Klay's stats from one week ago were already excellent and they are getting better.
So, yeah, it's less fun to see the Warriors on an night to forget, but it's never all bad. Give me tonight's game over the #SOTU it was up against.