Most of us don't begin studying for our final exams until either a few days or THE day before the big test. Reason is? Who knows. Scientifically, it is proven to be less effective when cramming for a test just moments before taking it, but since there is just no other option, here are some ways to make the most out of cramming last minute.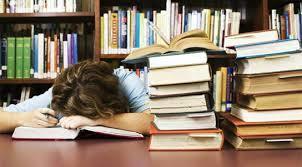 1. Exercise! just a simple 20 minutes cardio can improve your memory. Whether it be dancing, jogging or even just walking, exercise will increase your energy level and make so stress levels are lowered!
2. Avoid an all nighter- it might be hard due to the fact that there is just so much to cram for! But try not pulling an all nighter the night before your exam or even a few nights before, as that would mess with your sleeping pattern, and make it harder to concentrate and focus on your exam!
3. Stop those distractions- when it comes to cramming, procrastination can no longer be apart of the equation: turn off all digital social medias and devices that might distract you and cram in a place where you can fully focus in