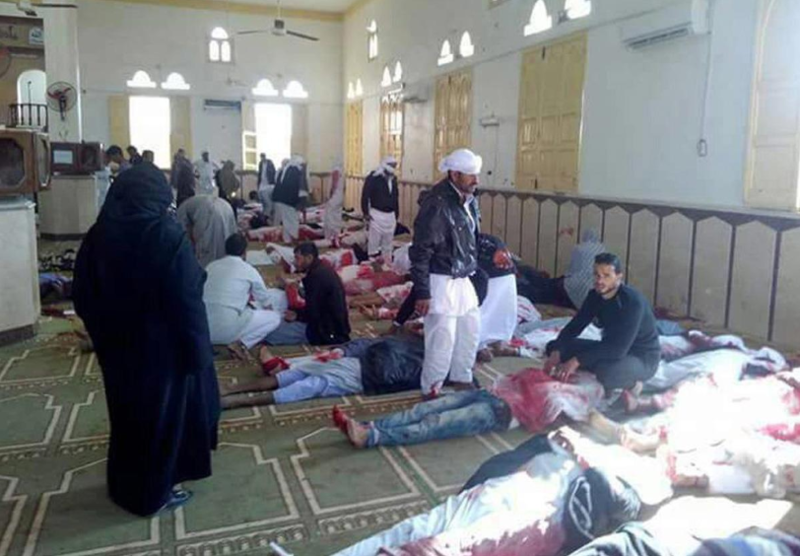 I turn on my computer and see this.
At least 235 people killed in a bomb and gun attack on a mosque in the country's northern Sinai Peninsula. 120 wounded. The deadliest attack of this kind in Egypt's modern history.
Shorty after Friday prayers, while the sermon was being delivered, reports say between 10 and 20 armed attackers wearing masks and military uniforms planted explosives, shot worshipers and then targeted those fleeing. The attack lasted some 20 minutes.
No group has claimed responsibility but local affiliates of the Islamic State of Iraq and the Levant (ISIL) group have claimed previous attacks.
What is the message here? What was the purpose of killing so many people at prayer?
The mosque belongs to the Sufi branch of Sunni Islam. Sufis are considered heretics by ISIL.
Is it retaliation against Sinai Bedouin tribes ISIL accuses of cooperating with the army?
Is this a continuation of armed opposition to President el-Sisi who in 2013 overthrew Mohamed Morsi of the Muslim Brotherhood, the first democratically elected president of Egypt.
Is it related to the now scrapped 3-day opening of the Gaza Strip's Rafah border crossing with Egypt? The Rafah crossing is the main gateway for Palestinians in the besieged Gaza Strip to the outside world.
Organized mass violence against civilian populations. Where is this going?