Pens, knives & other stuff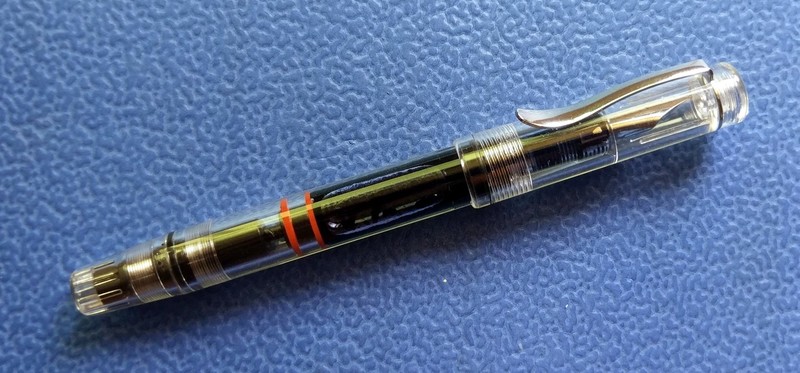 This pen really puts it all together:
Piston filling mechanism
Clear demonstrator / clear feed
2.1ml ink capacity
Healthy size - 141mm capped / 131mm uncapped
Pilot 78G-compatible nib
Fully disassemblable
Less than $10
Yes, it's another new Chinese fountain pen. If you like the Wing S 698, you'll appreciate the Caliarts Ego.
The two pens are virtually the same size and weight and use interchangable Pilot 78G-compatible nibs. The plastic of the barrel and cap feels identical in the hand. But the Ego is about 1/2 the price. Amazing.
I think they accomplish this through simpler construction and less metal trim. Like the TWSBI Eco, the barrel and section are one piece and the only metal parts are the nib and clip.
The stock nib is a steel F, but EF nibs are available separately. The feed is transparent but black feeds are also sold separately, as are replacement pistons and o-rings in different colors.
The pen comes in a metal box with a tool for taking apart the piston assembly and a extra o-rings.
The pen writes very nicely. Wet enough but not overly so. The nib is a little broader than the F on the Wing S 698. Not very much line variation.
The balance in my hand is excellent, just right for me unposted. The cap can post but it doesn't appear to be designed to be posted.
Head to head with Wing S 698, it's hard to see how the Caliarts Ego comes up short, unless you prefer the styling of the Wing S. I appreciate that the blind cap is solid, without the play found on the Wing S.
Judging from the name, I'm guessing that Ego is also targeting the TWSBI Eco, and it comes pretty darn close. But the TWSBI feels a little more substantial and, to my eye, has a more unique style that I rather like. Of course, the Eco has a full complement of nib options
Caliarts also has a ways to go with their branding, but they're trying.
All in all, for the fountain pen community, this is a terrific new option. At present, the pen is only available in China, Taiwan and perhaps other markets in Asia. But I expect it will get further into the world soon.
What do you think of this pen? Leave a comment!